A How-To Guide: The Metasearch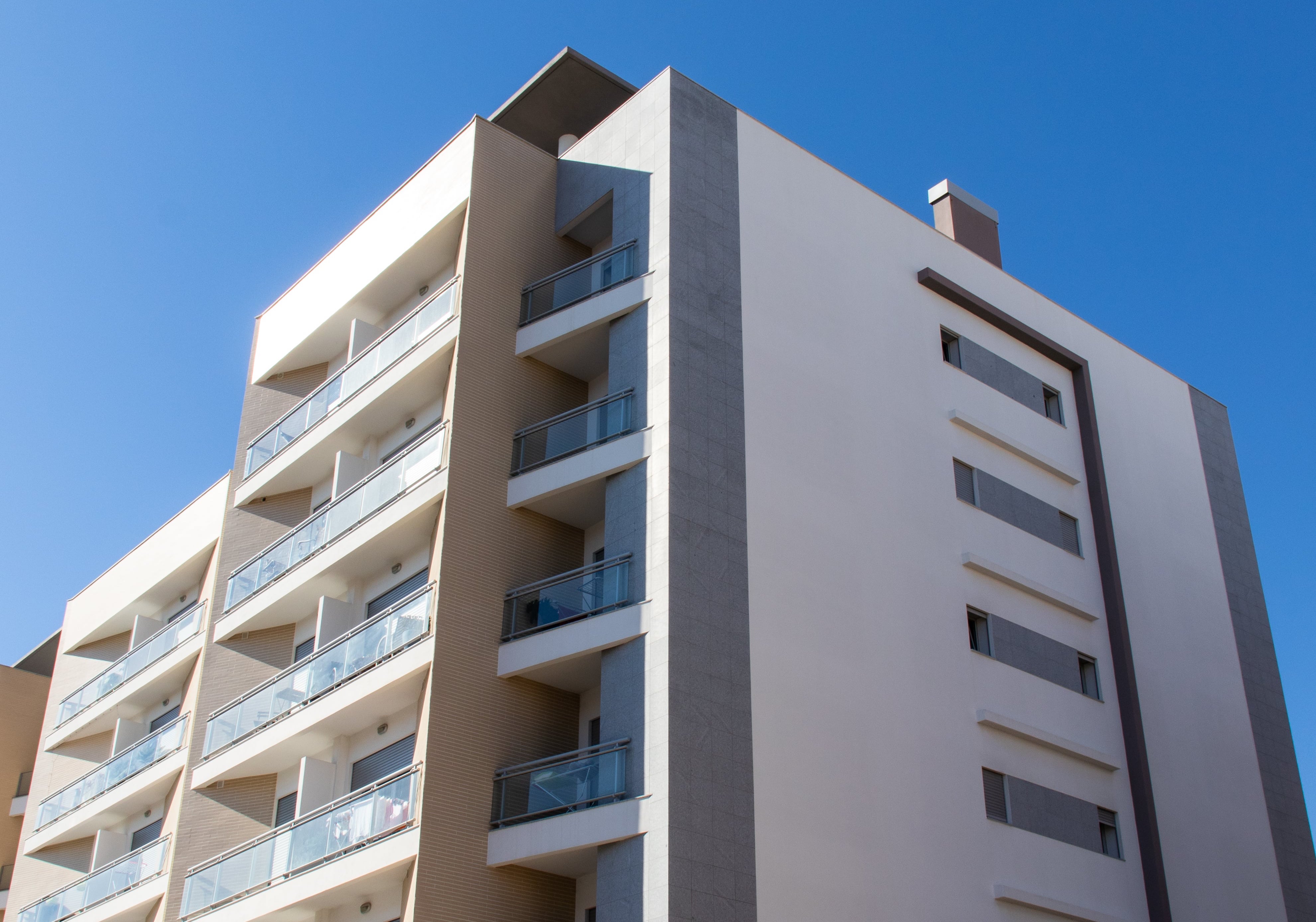 The importance of real estate data
Most countries in the world suffer from the same problem: chaos, a lack of access to public records and real estate data to make navigating the property market a straightforward process. Spain and Portugal are no different, and we've found that the absence of any Multiple Listing Service (MLS), like in countries such as the USA, means that real estate professionals are operating without essential data to help them streamline their work and advise their clients. The metasearch is one of the most central features of CASAFARI – learn here exactly how to use it and make it work for you.
Our mission is to solve chaos and bring transparency to the real estate market by aggregating and updating millions of listings from thousands of sources every day. Our vision is to build the cleanest and most complete real estate database in the world. In this blog post, we've broken down CASAFARI's most important features into a simple guide that will show you how our real estate data can help you.
The metasearch
The CASAFARI metasearch allows you to find any property that's been listed online across Spain, Portugal and – coming soon – France and Switzerland.
What we've learnt from real estate professionals is that staying updated on daily market activity is a time-consuming process, involving multiple internet tabs open on dozens of online sources. The CASAFARI metasearch is a centralised information on the entire property market. This application is designed for you to quickly
source new properties,
track your own portfolio,
exclusivity breach and
keep an eye on other agencies' activity, all in one place.
You can search by a wide range of criteria including location, price, property characteristics and agency; our machine learning technology aggregates all online real estate data to ensure that each listing in the search is one of a kind, meaning that with accuracy above 90%, you won't find duplicate entries of the same property. This is very often a problem when different sources list the same property with differing characteristics. You can understand more about how we clean real estate data with Artificial Intelligence here.
For example, if you're an agent in Albufeira with a client looking to buy a two-bedroom apartment, you can specify these criteria in the metasearch and find what you're looking for. The same applies if you're looking for a house in Barcelona with a plot size of 1000m2 and an asking price between €10 million and €15 million – all of the properties that match these specifications will appear for you to browse and, if you're interested, get in touch with the seller or their agent.
Each property listed in the metasearch provides detailed information about its characteristics, the time spent on the market and its value in relation to other properties in the same area. Given that we have aggregated all duplicate listings, the property specifications you see here are the most up-to-date and accurate.
You can also see how many agencies are listing it and their respective asking prices. Let's use the example of an apartment in Port Adriano, Mallorca, below.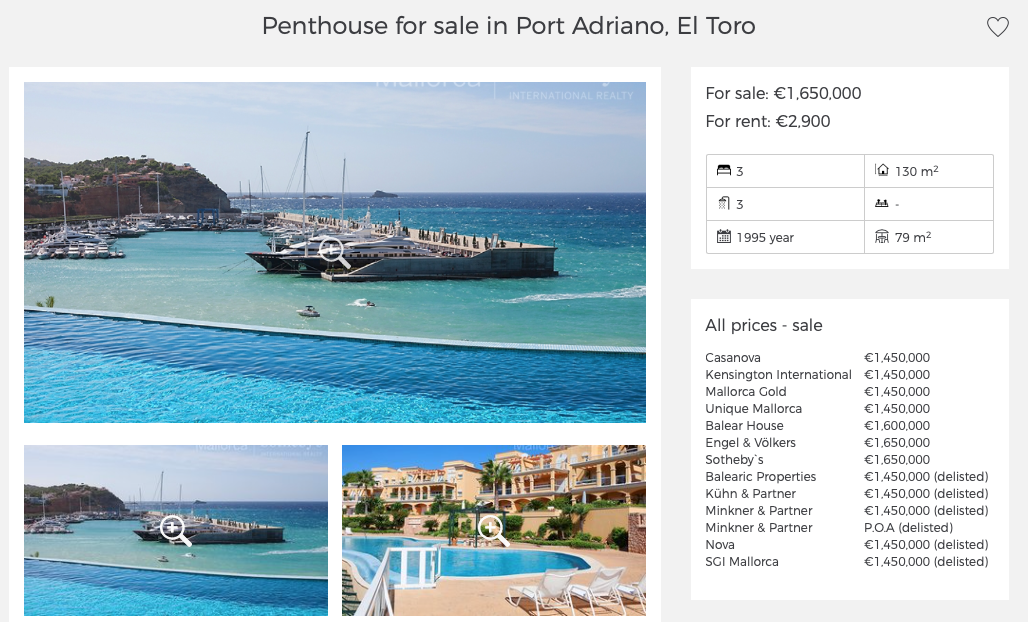 Thirteen sources were at point listing this penthouse, and of the seven still actively listing it, the asking price varies by €200,000. This is usually the case for non-exclusive properties; when you see that you are one of these agents, use this information to decide how best to adjust your strategy and be the first to secure a buyer.
Seeing how many agencies are listing a property means that you can easily check if properties are really exclusive. Properties being listed as exclusive have often in reality been seized upon by multiple agencies, which is information that agents have told us they find hugely beneficial.
With this data, it's your move: you're in the best position to reach out to other agents for negotiation and share the commission when you close the deal.
Market data feed and customised alerts
We've found that the daily market feed and customised alerts are a feature that agents consider priceless when it comes to sourcing properties and keeping track of their own portfolio. It's a way of staying updated on the listings you're interested in without having to keep dozens of internet tabs open every day.
For instance, every time that a property enters the market that matches the customised specifications that you set, you receive an alert.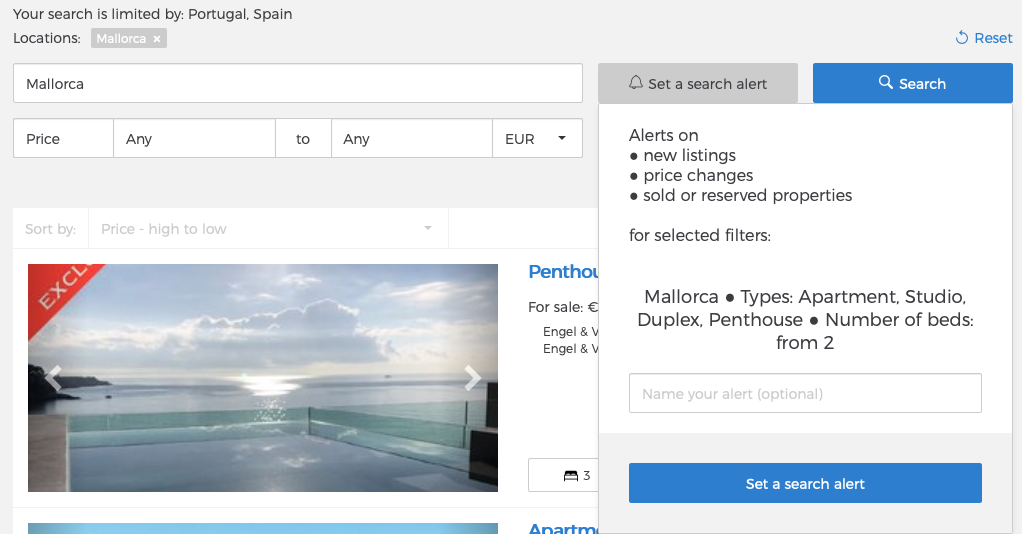 Find the option to 'Set a search alert' in the homepage of the metasearch. Using Mallorca again in the above image, the particular alert we've set here will provide a real-time update of all activity regarding two-bedroom properties in Mallorca, which includes new listings, all price changes, reserved listings, properties delisted and properties sold.
These are the results that appear on our Alerts page:

View all the listings in each category just by clicking on the numbers. This is the fastest way for you to source properties by filtering down the enormous selection of listings that exist online.
Search by reference number and set Favourites
Real estate agents can have trouble keeping their portfolios up-to-date, especially when non-exclusive properties that they are listing get sold by other agencies. Using the reference number feature and Favourites page is the most efficient way to solve this problem.
We've said that customising your alerts is the quickest way to source new properties, but searching for a property by its reference number is for when you want to watch a property you already know about, whether it's in your own portfolio or your competitor's. You can then add the listing to your Favourites, which is a shortcut to tracking all changes to the properties that matter to you.
Every property listed online has a unique reference number that you can input in the top left-hand corner of the CASAFARI metasearch homepage. The property will appear instantly and, if you want to stay updated with it, add it to your Favourites by clicking on the heart in the top right-hand corner of the listing.
The Favourites page, which you can see in the image below, is where you can find all the properties you're tracking. The top bar gives you an overview of price changes as well as new, reserved, delisted and sold properties.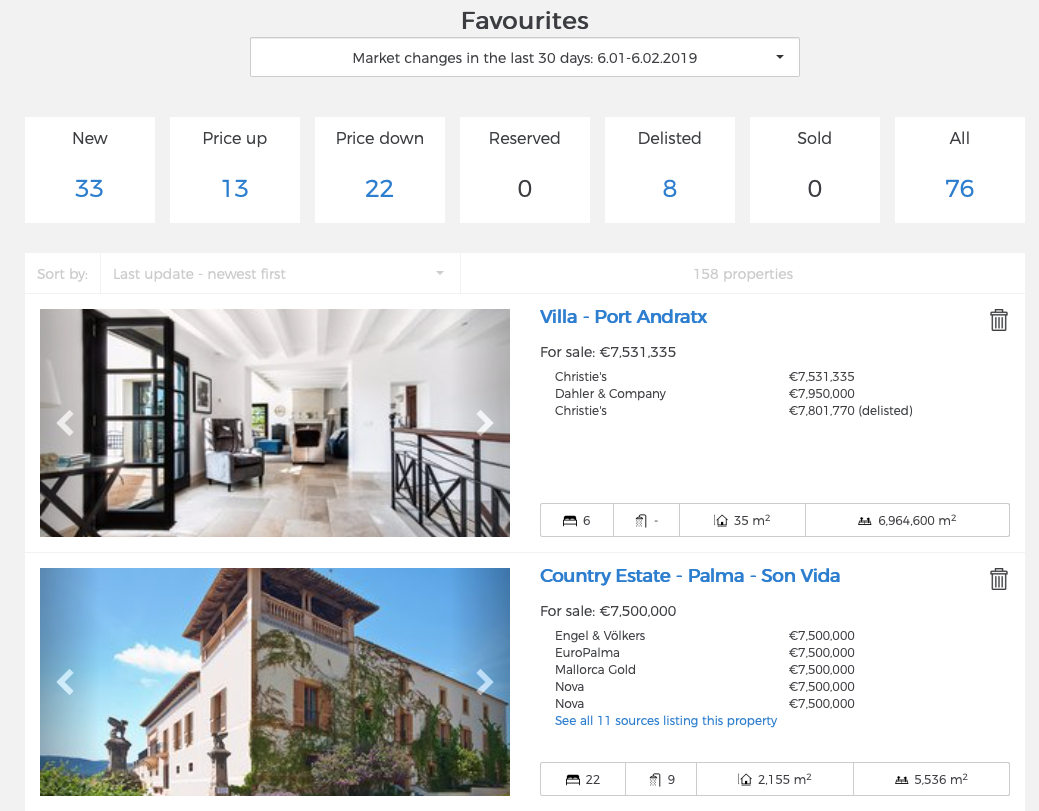 Area guides and prices per square meter
Finally, our area guides have a huge amount of valuable information on regions and neighbourhoods in Spain and Portugal. They are designed to introduce both buyers and estate agents alike to the best that each area has to offering, including essential details about schooling, local culture and amenities.
What you definitely do not want to miss out on in our area guides is the real-time information about property prices. The graphs and values are constantly updated with the most accurate real estate data about price per square meter averages for apartments and houses in a given area.
Let's use Benfica as an example.
In the first two graphs, you can see Benfica's real-time sale price distribution for houses and apartments, which is the range of all properties sold in this area according to their sale price. This is valuable information as it demonstrates the most common price bracket in which properties are sold. Use this data to advise your clients of the best asking price when selling their property.
The third and fourth graphs show sale price per square meter. Here each property's square meter valuation is compared against its overall price. This graph is particularly useful because, as a positive correlation develops, it becomes easier to spot the anomalies – that is, the properties whose prices don't match the upwards trend.
What does that mean for the outlier properties? Valuing a property higher or lower than the market trend could be detrimental to the seller and their agent. Properties deemed too expensive will spend a longer time on the market and gain a stigma, and by the time the seller had adjusted the price, it may be too late to attract a buyer.
In the same way, an asking price that is too low suggests that there is something wrong with the property, not to mention that it does a disservice to the seller.
When you have a full CASAFARI subscription, you get complete access to graphs and real estate data that can give you much more information, including which agencies are listing these particular properties and how long they have been on the market for.
Click here to sign up to CASAFARI.
More on the blog: An Interview with Cláudia Menino
Daily, we track 180.000+ property changes in Spain, Portugal, France, etc.
Be the first one to know about price changes, new and sold listings.
GET FREE ACCESS